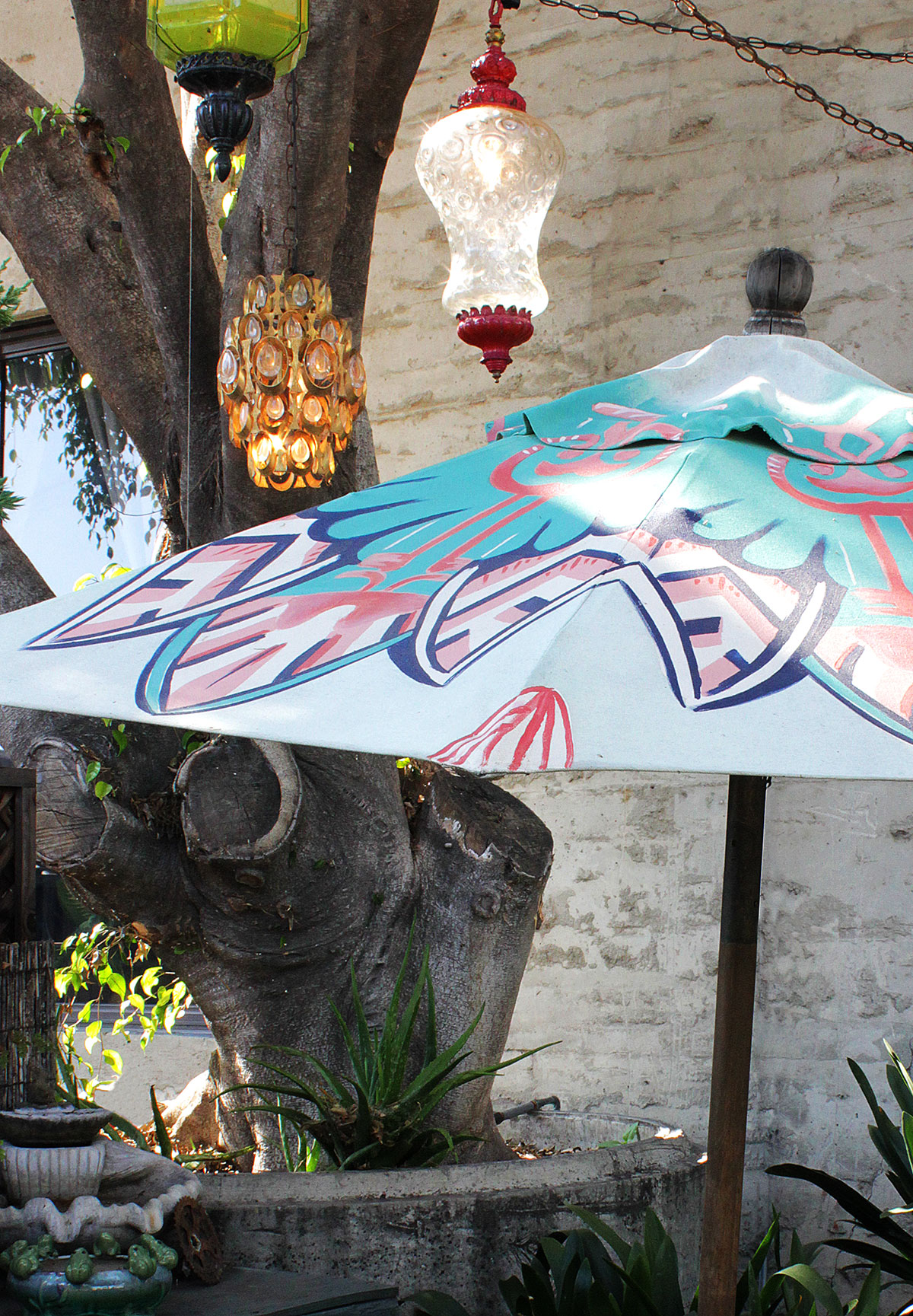 My First Hand Painted Patio Umbrella
As
 my mind begins to turn to the promise of Spring, I start planning to make hand painted patio umbrellas. This year, outdoor spaces and alfresco entertaining are more important than ever. My hand painted garden umbrellas add a festive quality to any outdoor space. (So start pondering that right now.) 😉 While digging through past projects a few days ago, I came across photos of my first painted umbrella. So today, I thought I'd share that story and some Pro Tips with you. (It hard to believe
 how far phone cameras have come since this umbrella was painted!)
Where the idea to hand paint patio umbrellas came from:
The idea to paint umbrellas came to me a few years ago. I had completed a large-scale art installation for Coachella. The project was to paint 52 full size teepees for a campground. It was a huge honor and undertaking. The opportunity to take my art into three-dimensions gratified my obsession with architecture and art. I loved the challenge of working on the circular/conical shape. After that project was complete, I began seeking something more manageable to paint.
One day, I was gazing out my studio window at my tired patio umbrella. I was thinking how ratty it looked and how it was time to get a new one. Then it occurred to me: paint it! (Duh.) So, I scrubbed it and bleached it and scrubbed it and bleached it until it was somewhat worthy of the effort to paint it. When the canopy dried, I hauled it into the studio, and I got to work.
This was in the early days of Pearl and Maude; possibly before Pearl and Maude existed. I was creating patterns from small sections of my paintings… applying them to consumer and home goods to see if they worked. In this first hand painted patio umbrella, you can see a similarity to Pearl and Maude's Beaufort pattern. (Available in both teal and cobalt blue wallpapers, as well as fabric). I had pieced Beaufort together from a detail of a streetlight painting I had made previously. (Titled Opulent, you can see it here.). As you can see, the "torch handles" of the lanterns play a prominent role in the Beaufort design.
How I chose the design and some tips from my experience:
Now, Beaufort is a complex mandala design for an experiment like this. It requires shading, lining, nuanced geometric shapes and details. (Pro Tip #1) When painting an umbrella, create a design that works on your specific umbrella's shape. For example, if your market umbrella has eight panels, you want a design with four or eight repeats. This may be why I chose the Beaufort design for this project: it already had the right number of repeats.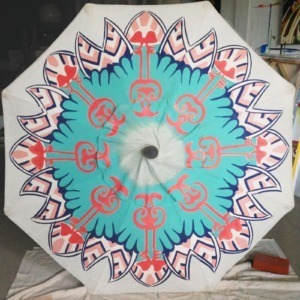 Next, I chose colors that would work with my studio's patio and bring some levity to its industrial surroundings. (Pro Tip #2) Turquoise and coral are one of my favorite color pairings. I love the punchy, tropical feel of the two radiating off of eachother. The color palette also needed dark and light colors for outlining and contrast. (Pro Tip #3) For that, I selected navy blue and a soft, creamy white. I mixed all my colors in high quality, light fast artist acrylic. (Pro Tip #4) It works great on outdoor umbrellas. It doesn't crack or bleed (unless you use too much water!) and its fading is minimal compared to other types of paint.
I find umbrellas easiest to paint stretched on their frames and tipped onto their sides. The other options are to remove the canvas from the frame and lay it on the ground or attach it to the wall. Either of those orientations work fine, and it's easier to paint over the panel seams. (Pro Tip #5) However, I prefer stretched on the frame and facing me. It's more familiar, like painting artwork on a stretched canvas. Although a lot of umbrella canopies are not very taught… It takes some getting used to. (Pro Tip #6)

The results and how to work with me on your own painted umbrella: 
I was so pleased to have a pretty, ornamental outdoor umbrella to look at through my window. The colors and pattern brought such great joy to my view! Also, the painted part of the umbrella was easier to keep clean and extended its use life. In fact, that hand painted patio umbrella has a new home at a neighbor's studio where it bakes in the hot sun all day long and still looks great! Go figure.
In the end, I decided to offer custom painted umbrellas to you! Here's how I work: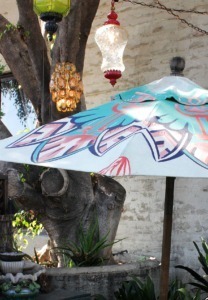 find the umbrella that suits your purpose (I have some recommendations here)

have it shipped to me

purchase

your desired pattern and size from my website

after that, we'll talk colors, I'll paint the umbrella and have it shipped back to you
Voila! This is a great way to inject some personality into your outdoor space.
Spring is on its way! So, get your umbrella orders in asap to make sure you have them in time for Spring cocktails in the garden.
Please note: there is no perfect outdoor paint. Painted umbrellas are susceptible to the elements, just like you are. The better you care for it, the longer it will last. Cheers!