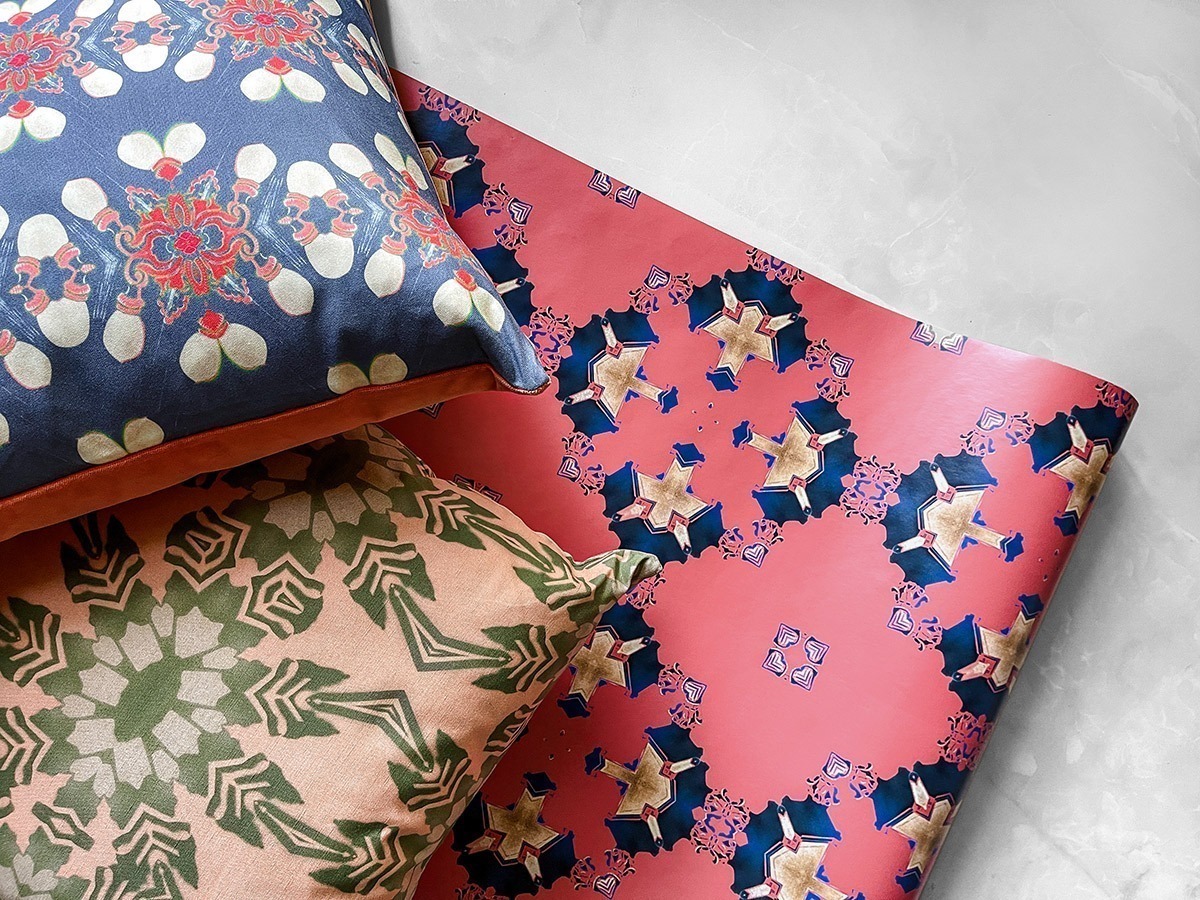 Favorite Fall Patterns for the Home
"I would rather sit on a pumpkin, and have it all to myself, than be crowded on a velvet cushion." – Henry David Thoreau
Ouch. I'm afraid Thoreau may have missed the boat on this one. Pumpkin season is my hands-down favorite season. Every season is my favorite season, but right now, for sure it's Fall. Southern California has had a beautiful one too! It's the stuff that apple cider dreams are made of. But sitting on a pumpkin rather than a velvet cushion surrounded by friends?!? Hard pass.
Unless we're talking pumpkin colors, Henry. Give me all the oranges and browns and reds and bits of olive green! Throw in your pinks and your greys and a little of that clear sky blue. I've been dancing circles with these colors for the last couple weeks and they never cease to fill me with comforting thoughts.
One of the great benefits of doing regular, live events with your products (come find me at the legendary Rosebowl Flea Market, HH82) is the need to repeatedly set up your goods. Every time, it's a little different. And as I've settled my soul into the changing seasons, I've discovered new combinations of Pearl & Maude patterns that spring to life in full harmony. I thought you might enjoy seeing two of my favorite fall pattern combinations.
Warm It Up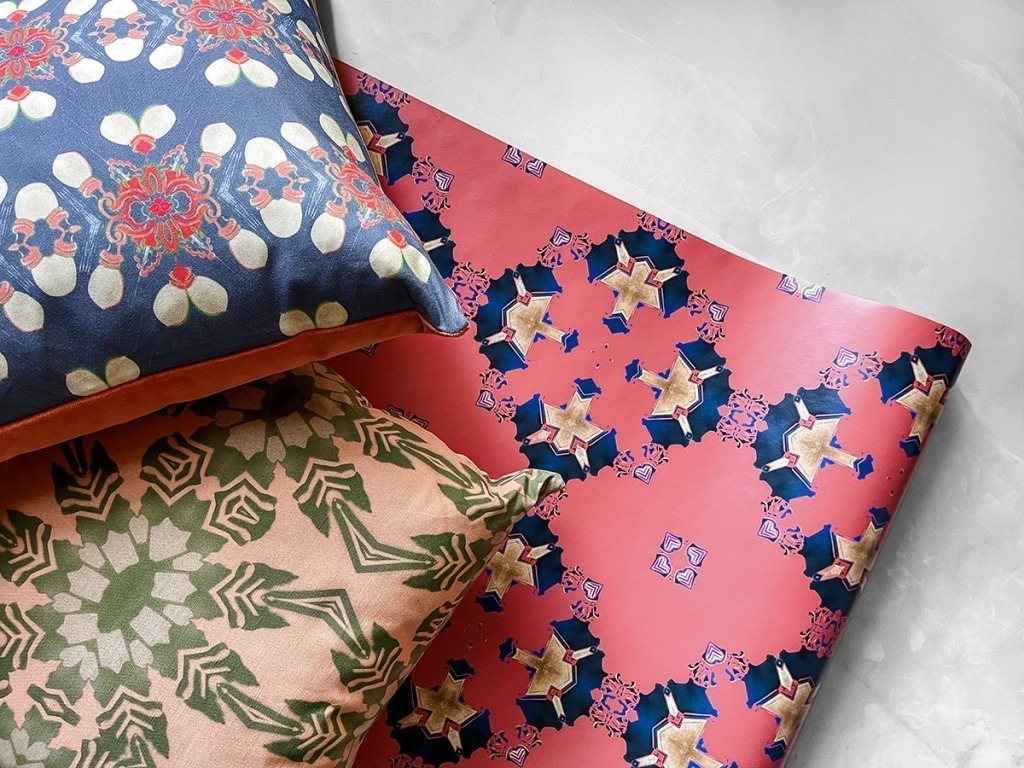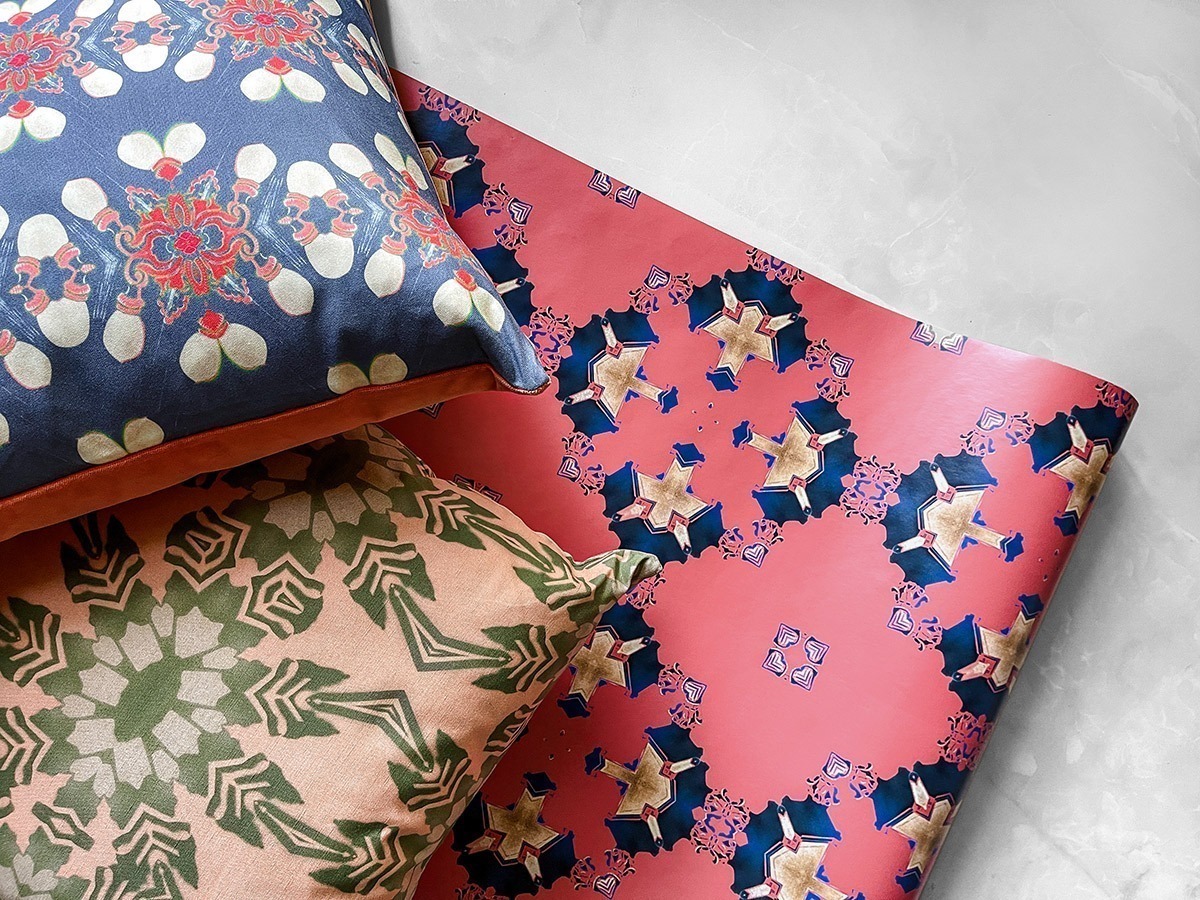 This smashing combination of patterns on wallpaper and pillows has been featured at the last couple events I've done, because they just WORK. This isn't about matching (snooze), it's about working harmoniously together to create an interior design that is layered, expansive, and full of life.
So what do we have here? Eva pre-pasted wallpaper in terracotta pink and blue sets the stage. The bold earthy pink is on the verge of just messing around, but Eva's deep, midnight blue gives the design a more serious edge. This wallpaper pattern is part Hollywood Regency and part Art Deco, although everyone sees something different in this design. (Foxes anyone?) The pillows are our cool grey Arabella pattern with salmon velvet backing and our new Artemis pillow in dark clay and olive (available, but not yet listed). The takeaway lesson here is: wildly mix your warm colors. It's easier when they all lean towards cool or all veer towards warm. But either way, go broad and make sure there's enough neutral to bring them all together.
Cool not Cold
Blue and white is an interior design staple. And why wouldn't it be? It's classic and clean. But it can also feel very summery. That's tough when it comes to making your home feel cozy for the cooling fall months. My solution? Copper, grey and brown. While riffling through a stack of prints at a recent show, I stumbled across the most welcome pairing: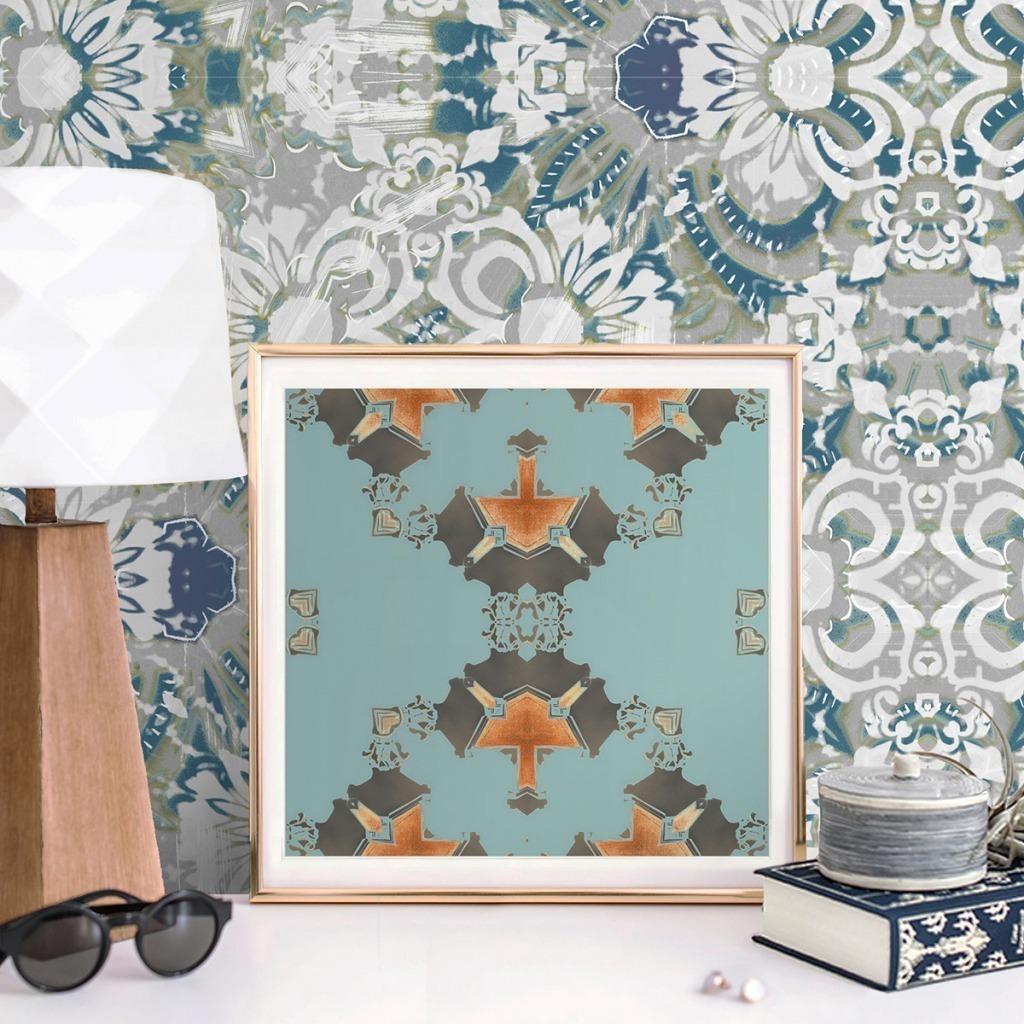 This Carmen Inlay wallcovering is so new, it isn't even listed on the site yet. (Sorry about that, but you can inquire about it here.) I was struck by the organic floral pattern next to the strong geometry of the Eva print in robin's egg blue and copper. The light blue of the print carries through the Carmen pattern, whose earthy olive gradient makes merry with the grey and copper in Eva. Together they are a study in contrasts that work together in surprising ways. Throw in some natural wood accents and a linen colored throw blanket and you've got yourself a thoroughly cozy blue and white nook fit for a nap.
On a personal note, the house we've been building is really coming together and it's taking nearly all of my brain and body power. We're having family in for Thanksgiving, so (thankfully) there's a deadline quickly approaching. I've done more shopping in the last few months than I thought possible. Ha! But it's a lovely home and we look forward to sharing it with the world. We look forward to getting a few days off. And we look forward to new adventures post-build. So if things have seemed a bit pokey around here, (Like, why don't I have all of my new pillows listed yet?) I expect Pearl & Maude's rhythm to change in the coming weeks and I can't wait! Whew! Everything they say about building a house is true.
I hope you are enjoying the changing light of fall. Long shadows cast such a welcome slowing.
-Teale