Make a Statement with Your Unique Patio Umbrella

~ Make a Statement with a Custom Patio Umbrella ~
Create an outdoor oasis that's as unique as you are.

Summer is just around the corner, and as the days get warmer and longer, it's time to start thinking about how you can make the most of your great outdoors. While some people might be content with a standard patio umbrella, why not take things up a notch with a custom patio umbrella that will make your outdoor space truly stand out?
Pearl & Maude's custom painted patio umbrellas bring your dream garden to life:
At Pearl & Maude, we specialize in creating unique patio umbrellas that are both functional and beautiful, and can serve as the centerpiece of your outdoor space. Artist and Pearl & Maude Founder Teale Hatheway, expertly hand-paints each custom umbrella with designs and patterns that are tailored to your style, ensuring that your patio umbrella is truly one-of-a-kind. With our design process, you can select your preferred size, color palette and pattern to complete your outdoor space, and leave a lasting impression of fun summer days by the pool.
Not only do our unique patio umbrellas provide essential shade for those long summer days, but they are also statement pieces that reflect your personality and are sure to turn heads. From a distance, the
colors and patterns of our painted patio umbrellas hang suspended in the air, adding interest and fun to other-wise undecorated areas of the garden. And from underneath? Underneath is magical! The painted areas of the umbrella canopy create a more opaque design from below, which transmits some of the colors from the top surface. From bold, vibrant designs to elegant and understated color palettes, the possibilities for a bespoke patio umbrella are endless.
How do your painted designs hold up?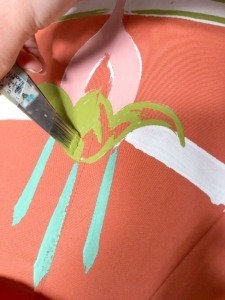 One of the questions we get asked most is: how do they hold up? Our answer: Great! For an umbrella. All garden umbrellas are designed to take a beating so you don't have to. These are functional pieces, after all. Our painted designs are
created using the best paints available for outdoor use to prevent fading. On top of that, we find the painted patterns don't hold dirt the way the unpainted cloth does, so they clean well. We've had painted umbrellas on our patio for years and they still look good. What really determines the durability of any umbrella, is the umbrella itself. Selecting a patio umbrella made of high quality materials will yield the most years of enjoyment.
What do I need to know before ordering a unique patio umbrella?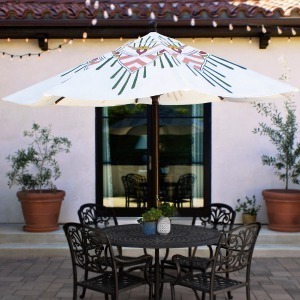 Before you start designing your dream patio umbrella, it's important to consider a few key factors. First, think about the size of your outdoor space and the amount of shade you need. You don't want an umbrella that's too small and doesn't provide adequate coverage, or one that's so large it overwhelms your patio. Consider how many umbrellas you might need – one for each chaise lounge alongside the pool? And are all those umbrellas the same or are they varied? Are you looking to place an umbrella in an outdoor table? Measure the pole hole to assure you're purchasing an umbrella that will fit into your furniture.
Next, consider the design style that complements your existing outdoor decor. Do you want a bold, eye-catching design that makes a statement, or something more understated and sophisticated? Whatever your preference, we work with you to create a look that fits seamlessly into your overall outdoor aesthetic.
Finally, don't forget to have fun with it! Your outdoor space is a reflection of your personality and style, so let your creativity shine with a show-stopping and unique patio umbrella, painted by Pearl & Maude.
As we approach the warm months and prepare to spend more time outside, why settle for a standard patio umbrella when you can have a bespoke, one-of-a-kind design that is a true work of art? At Pearl & Maude, we're passionate about creating functional yet beautiful umbrellas that leave a lasting impact on our customers and their outdoor spaces. So, get creative, have fun, and create an outdoor oasis that will be the envy of all your friends and neighbors.
To learn more about how to have a custom umbrella painted for you, visit our umbrella page. Or read about Teale's first foray into painting umbrellas. Think: large scale art commission.