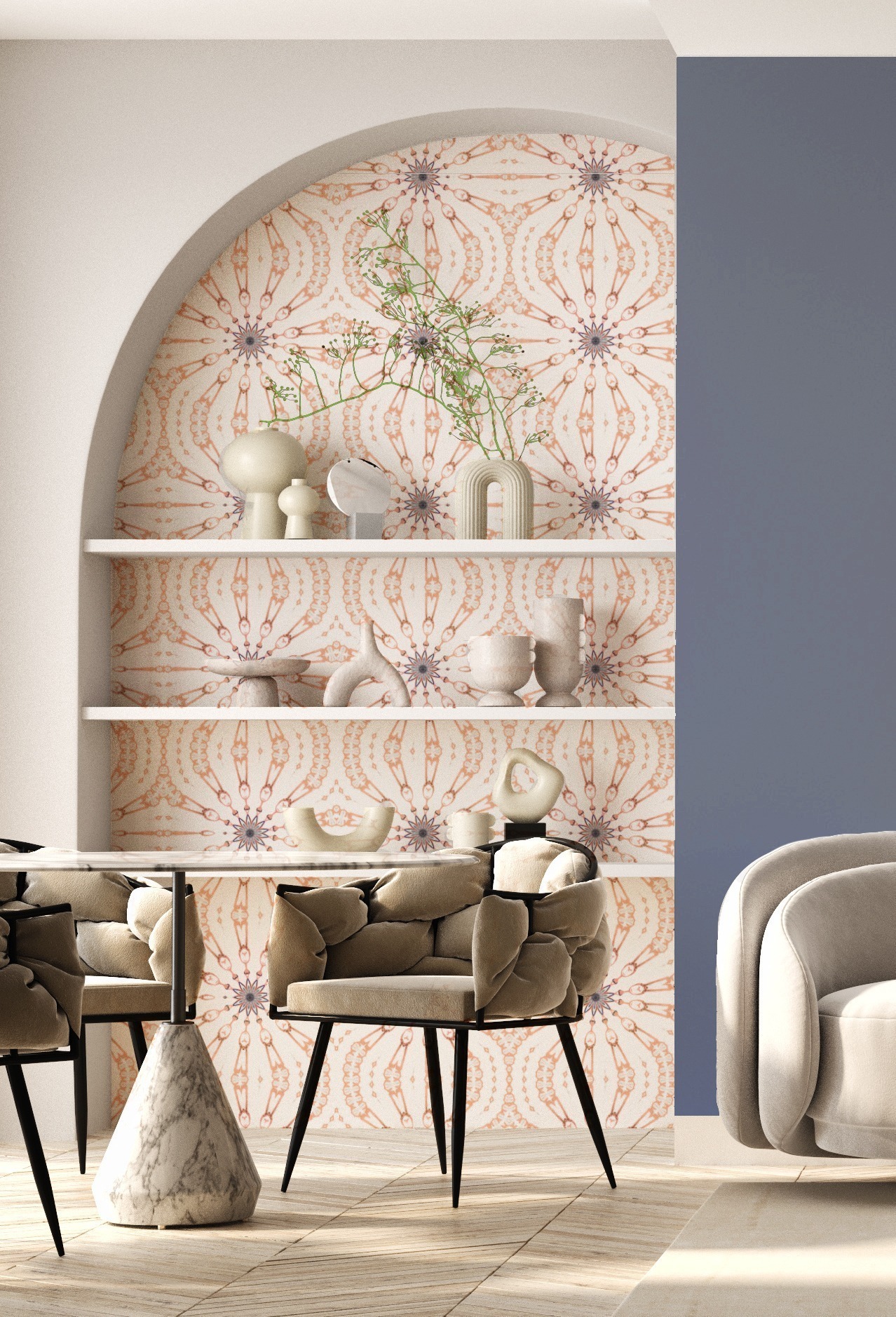 5 Unusual Ways to Use Wallpaper to Surprise and Delight

~ 5 Ways to Use Wallpaper to Surprise and Delight ~
using  wallpaper in overlooked spaces makes a big impact
Adding wallpaper is a terrific way to infuse personality and charm into a room, but it doesn't always have to be applied to the four walls! There are plenty of areas where a creative installation of wallpaper can create memorable and unique spaces. Whether you're dealing with a compact bedroom or a unique architectural feature, there are many ways to showcase your personal style while coloring papering outside the lines.  Here are five examples of ways to use wallpaper to surprise and delight:
WALLPAPERED POWDER ROOMS BUT BETTER:
The most popular jewel box of a room, the small powder room can be a great place to experiment with bold wallpaper patterns. Since the space is small, you can afford to take a risk and choose a pattern that might be too overwhelming in a larger room. A powder room is a great place to experiment with more daring patterns, such as animal prints or metallic accents, which create a sense of drama and sophistication. Also consider highly detailed patterns which will be best experienced at the close range a powder room demands. But how can you take your powder room over the top? By papering the ceiling too! Trust us on this one… Hello captive audience! Your guests, in this private space, will be enveloped in your favorite pattern and they'll take notice.
THE ONLY WAY TO INCORPORATE WALLPAPER ON ACCENT WALLS:
Incorporating an accent wall is an excellent, way to use wallpaper in a room. By creating a focal point, we can draw attention to a specific area and make the room feel more dynamic. This works well in a bedroom, living room, or home office. However, according to Pearl & Maude, there's only one correct way to incorporate wallpaper as an accent wall: paint the remaining walls the same color as the wallpaper background. This ensures that the accent wall doesn't look disjointed from the rest of the room. An accent wall can create a sense of intimacy and romance in a bedroom, showcase artwork or statement furniture in a living room, or provide motivation and inspiration in a home office. The key is to ensure that the accent wall ties into the rest of the room and is part of your cohesive plan.
MAKE THEM RETURN WITH ENTRYWAY WALLPAPER:
The entryway and foyer are the first impressions guests have of your home. It's also the last thing they see before they leave. Use wallpaper to add interest and personality to this critical pass-through space. Look for patterns that reflect your style and make a statement as soon as guests enter your home. By using wallpaper on the walls, you can convey how you want your guests to feel by creating coziness, drama, or elegance. But by wallpapering the ceiling only, you draw visitors' eyes up and around the space. This small action alone, instills a sense of wonder in the viewer. Whatever pattern you select, ensure it works with the styling of adjoining rooms and make it memorable and welcoming.
EMBELLISH YOUR ROUTINE WITH WALLPAPER IN CLOSETS:
Closets and dressing areas are often overlooked spaces, but wallpaper can transform them into personalized, private spaces. By adding wallpaper to the walls of a walk-in closet or dressing area, we can create a sense of visual interest and make the space feel more dynamic. A walk-in closet with a bold wallpaper pattern is an unusual way to incorporate flair into your daily routine. It creates a sense of luxury and glamour, making getting dressed in the morning a more enjoyable experience. But it's not just for you. One of our favorite ways to let guests know how much we care about their stay? Wallpaper the guest room closet. Even the inside of the doors. It's like opening a little gift every time!
ADD DRAMA BY CREATIVELY WALLPAPERING NOOKS: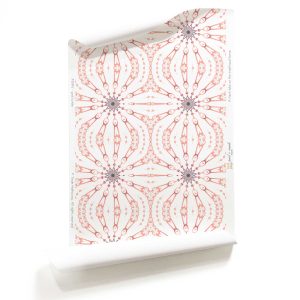 Nooks, such as reading nooks, window seats, or alcoves, can be the perfect spot for a bold wallpaper pattern or texture. By adding wallpaper to the walls and ceiling of a reading nook, you can create a cozy and inviting cocoon that encourages relaxation and imagination. A window seat with a bold floral pattern or a geometric print creates a sense of warmth and comfort, making it the perfect spot for a cup of tea. Papering architectural alcoves or the backsplash in the butler's pantry has a similar effect to hanging large artworks – it's dramatic and focused, bringing a finishing touch to an otherwise overlooked opportunity.
When choosing design features for a small space, there's so much room to use wallpaper in creative ways! Remember to take your time and have fun with the process. Experiment with different patterns, colors, and textures to find the perfect wallpaper for your space. And always keep in mind the overall style and aesthetic you're trying to achieve, so that your wallpaper choice complements and enhances the other elements in the room.
Wallpaper can be a wonderful way to enhance the style and personality of a small room or part of a larger room. Whether you're using it to create a bold accent wall, add interest to an entryway, or transform a closet or nook into a cozy retreat, there are many ways to make the most of this versatile decorative element.
Get started! Order samples of any of our wallpaper patterns so you can see how they will look in your home.