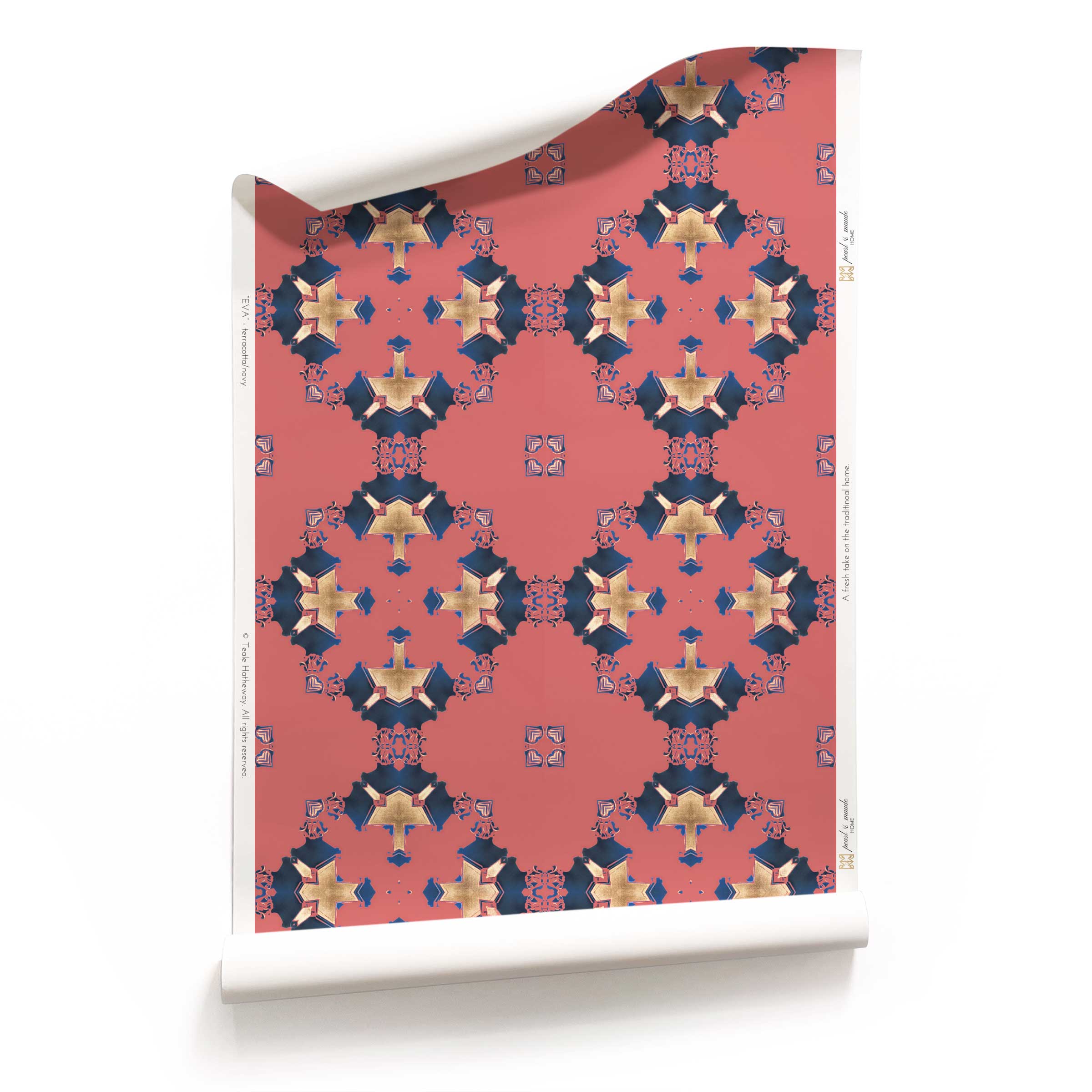 The Power of Wallpaper Samples ~ Transform Your Home with Confidence


~ Bring your walls to life ~
Discover the magic of wallpaper samples and why you shouldn't skip them.
Choosing the perfect wallpaper for your home can be an intimidating task. With a wide variety of designs, colors, and patterns to choose from, making a decision can seem daunting. Fortunately, there is a simple solution to help make the process easier: order wallpaper samples before making a decision.
Pearl & Maude has developed new wallpaper samples and frankly, we think we've done a really good job creating these! So today, we're here to tell you a little about them and why purchasing wallpaper samples prior to buying rolls is important.
Pearl & Maude's wallpaper samples are designed to help you:
First, about our new samples: since all Pearl & Maude wallcoverings are printed in-house, we're able to make our samples anything we want them to be. So naturally, we put a lot of thought into what makes a wallpaper sample BETTER. Large size is the first obvious answer, but we went above and beyond. We're offering massive 2' x 4' strikeoffs of all our wallpaper designs. This size really helps you visualize a pattern in your space and it's bigger than any we've seen elsewhere! Tape it up on your wall and live with it for a few days. It doesn't get easier than that.
But a sample that size can be overkill. And sometimes you want a moderately-sized sample in order to pare down the options. For you, we made 8" x 11" folded samples that unfold to reveal the paper details and two images: one is a photo of the wallpaper roll, and the second image shows the pattern in use in a room. These images are really handy visualizing tools for everyone – even us! And we love any tool that overcomes the hurdles standing between you and your showstopping home.
Ordering wallpaper samples is an inexpensive way to ensure you make the right decision before investing in a larger quantity of wallcovering.
More reasons why it's a good idea to order wallpaper samples:

To begin, it can be challenging to visualize how a particular wallpaper design will look in your space. Not only does everyone's computer monitor show colors slightly differently, but the lighting and furniture in your room can impact how the colors and patterns appear.
By requesting wallpaper samples, you can see how the wallcovering will look in real life, in your home and determine if it complements your decor. This will help you avoid the disappointment of buying a wallpaper design that clashes with your furniture or does not look as you expected.
In addition, wallpaper samples allow you to test the quality and durability of the product before making a final decision. You can see if the wallpaper has a surface finish that you like, if it tears easily, or if it's of a quality that you appreciate. This information can help you make a more informed decision about which wallcovering to choose, and it can help you avoid costly mistakes in the future.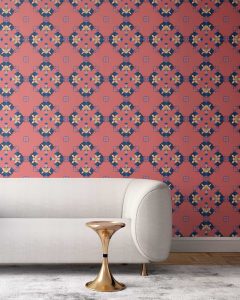 The most fun reason is that, by requesting multiple wallpaper samples, you can compare different designs and colors side by side. This will help you determine which one you like best and which one works best in your space. It's important to keep in mind that a wallpaper design that looks beautiful in a picture may not necessarily look the same in your space. And sometimes visa versa – the design you're least excited by online is the one that makes your room come to life. By comparing samples side by side, you can get a better idea of which wallpaper is your favorite and what it will look like in your home.
Lastly, selecting the wrong wallcovering can be a costly error. In the case of boutique wallpaper designers such as Pearl & Maude, all of our wallpaper is printed to order. We do not maintain inventory. This means that we do not accept returns. Ordering samples from us before purchasing rolls is extremely important.
What to watch out for when relying on any type of samples:
The fact that we could only think of one potential pitfall with ordering samples, speaks to the value of samples-in-hand. So what could the one thing be? Color. Now, this isn't a big deal most of the time. As every interior designer knows, dye lots shift a bit with every fresh batch of product. And when the product is printed-to-order, every order has an opportunity to shift slightly. It's just the way it is and every manufacturer deals with this. What we've discovered through producing our own wallcoverings is that temperature, humidity, ground type and a host of other factors can affect the color repeatability of our prints. In fact, this is such a common issue, it's one of the reasons we brought our printing in-house ~ so we can keep and eye on our colors through technological, environmental and quality controls. So either have a little flexibility or a lot of specificity with your vendor. This goes for fabric and wallpaper: work with a reputable vendor and if you have a sample that's very old, let your vendor know. Order a fresh sample to check the current "dye lot." And when you finally order, order enough for the whole job to assure color consistency.
Visualize your beautiful home with the help of samples:
All things considered, ordering wallpaper samples is a practical and effective way to make an informed decision when choosing the perfect wallcovering for your home. It enables you to see how the wallpaper looks in your space, test its quality and durability, compare designs and colors, and avoid costly errors. With the help of wallpaper samples, you can choose a wallcovering design that not only looks stunning but also complements your decor and fits your lifestyle.
So, peruse our assortment of wallpaper patterns and order some samples! Large or small, we'll get them off to you right away so you can start visualizing just how beautiful your home can be.