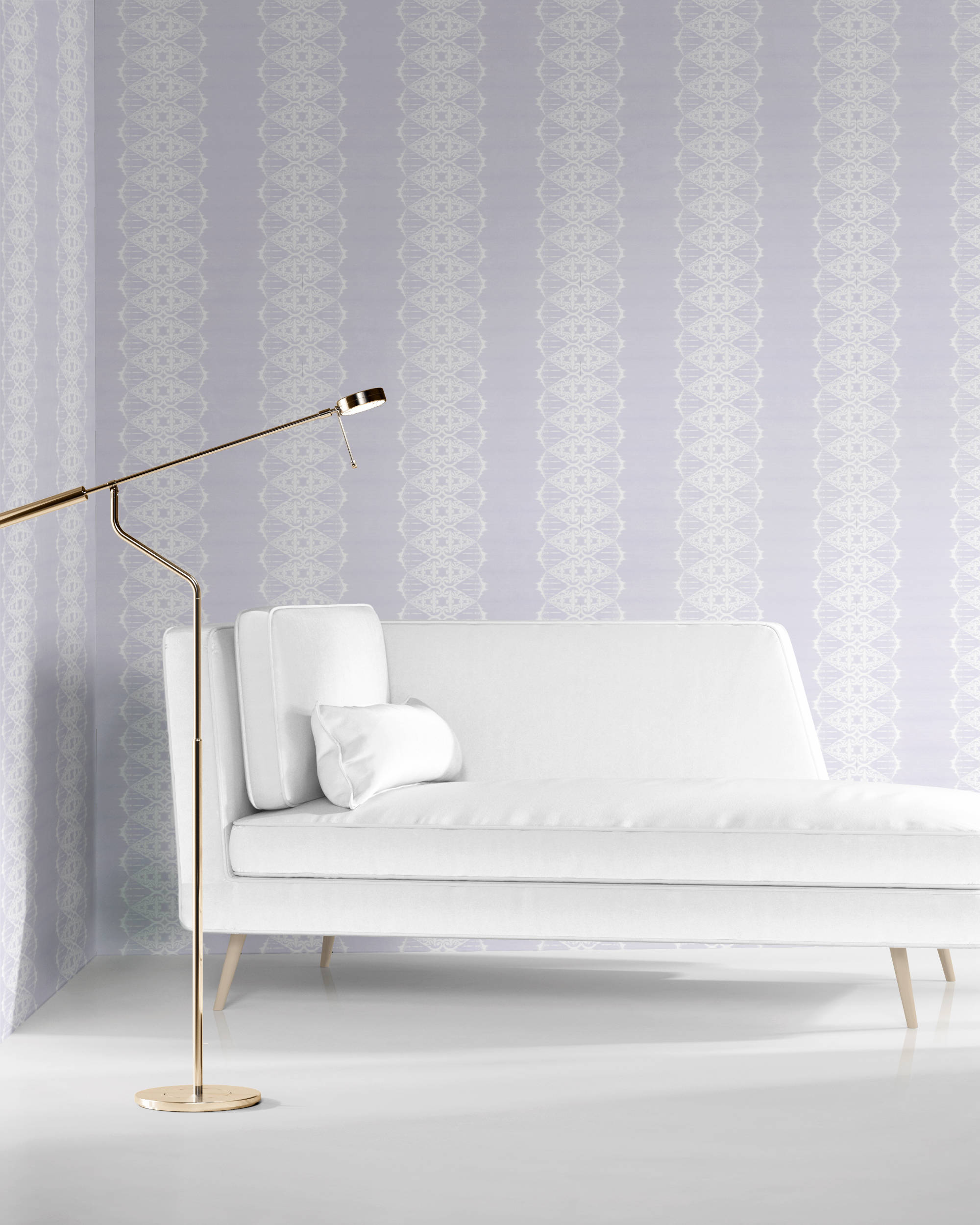 Decorating with Striped Walls for Maximalist Design Impact


~ Decorating with striped walls? ~
Check out our organic striped wallpapers that add character and depth to the classic striped wall.
Traditional stripes – they're a paradox: equal widths of contrasting colors, simple designs with energetic effect, elegantly classic but with a bit of carnival imagery thrown in. They're kind of everything and nothing, all at once. Decorating with striped walls can be different for everyone.
We adore stripes for all of their complexity. Their tailored structure brings organization to any space and they're so ripe for interpretation!
We've redefined the traditional stripe with swirling, fluctuating and complex designs that add oodles of character to a classic room. We offer three stripe patterns in particular: Elizabeth is our undulating, organic pretty girl, Charlie, our wild child who melds Renaissance florets with pavilion stripes in a contemporary repeat pattern, and Lou. I'm not even sure how to describe Lou. He's kind of the guy who brings mushrooms to the yacht party.
Read on for more info on each of our striped wallpapers.
Our Elizabeth striped wallpaper design features organic stripes that bring a slightly wild, yet sophisticated enjoyment to your home. From a distance, the fluid lines of the pattern are reminiscent of (highly stylized) vines climbing a wall, creating a subtle and natural effect. The open weave of the pattern allows the background color of the wallpaper to show through, softening the graphic effect of traditional striped wallpaper and creating a layered influence with a sense of depth and texture.
This wallpaper is perfect for those looking to add a feeling of calm and tranquility to their space. The muted color ways create a serene atmosphere that promotes relaxation and reflection, while the organic stripe pattern in white, adds a playful touch of visual interest. Even in stronger color palettes, Elizabeth has a timeless elegance underscored by the balance of color and form.
The open and airy design is perfect for a variety of spaces, from bedrooms to living rooms, and pairs beautifully with a range of interior design styles. Elizabeth makes decorating with striped walls easy. Available in neutral and periwinkle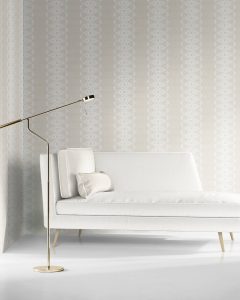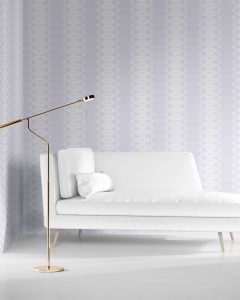 Charlie is a tailored, striped pattern softened by a loose, floral arabesque. (S)he's eccentric, like an intensely modern, butch, Laura Ashley pattern. With stripes of varying scale, Charlie breathes its way around the room.
Have you ever see the Tartar Tent at the Chateau de Groussay? Just 15 minutes from Versailles in the Parisian countryside, THIS is Charlie's design ancestry. Pomp. Festivity. Chic affairs.
At least, that's my opinion. But our version is updated. Charlie is rounded out with contemporary accents of golden mid-tones and soft flares of spray-paint as evidence of the original painting from which she was drawn. Available in Sapphire Blue, Garnet Red, Neutral Charcoal and Emerald Green
Here we are at Lou again. Lou is such a character (and one of our most popular art prints!). When we translated this design into blue and white wallpaper, everything made sense. Lou feels nautical, replete with all the surrealism of tidepools, oyster flesh and barnacles. Ripples in the surface of water, distort the lively activity of the universe below… jagged edges of protective calcium. Stepping back, Lou's as true a stripe as we offer. A classic. Preppy, even. Everyone likes Lou. Available in Cobalt Blue and Blue and White.

We expect to have more stripes in the future. Decorating with striped walls is a classic, structured way to incorporate more elaborate patterns into you home. In the meantime, enjoy our trio of Maximalist striped wallpapers. There's something for every design adventurer.