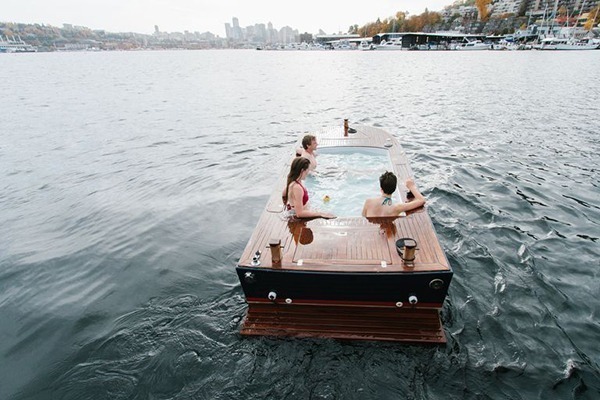 Fall into Autumn Gracefully – The Feature – September 2020

Fall into Autumn gracefully – exactly what and how does one do that? Many cultures celebrate September, with its Autumn Equinox of equal lengths day and night, as a month of balance and meditation. The seasons shift whether you're ready or not, so why not be ready with a quieting of the mind, a focus on comfort and the creation of personal rituals?
In September's Feature: make a date to drift aimlessly in a hot tub with a view, see the golden hour in the dusty saturation of our Desert Diamonds wallpaper, harvest jewel-toned pomegranates for these recipes, find optimism in a sunset painting from Teale Hatheway, revel in an haute couture runway show in an ancient temple, hunker down with a terrific Impressionist art mini-series, escape to nowhere in a book of artificial architecture, and stirred, not shaken, please.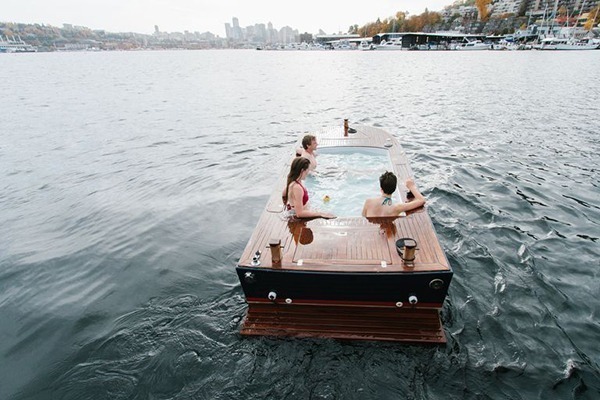 While cruising around in a boat full of water may seem to defy the laws of physics, we can assure you this is real. And brilliant. And perfect for a quarantined pod of six. Based out of Seattle, every boat in Hot Tub Boat's fleet is handcrafted locally, by a team of committed shipwrights. Steered with a joystick, these beautiful wooden vessels with their custom fiberglass hot tubs maintain an ideal temperature of 104 degrees Fahrenheit. Hot Tub Boats are available for rent by the hour, or, you know, you could just buy a fully customized one of your own.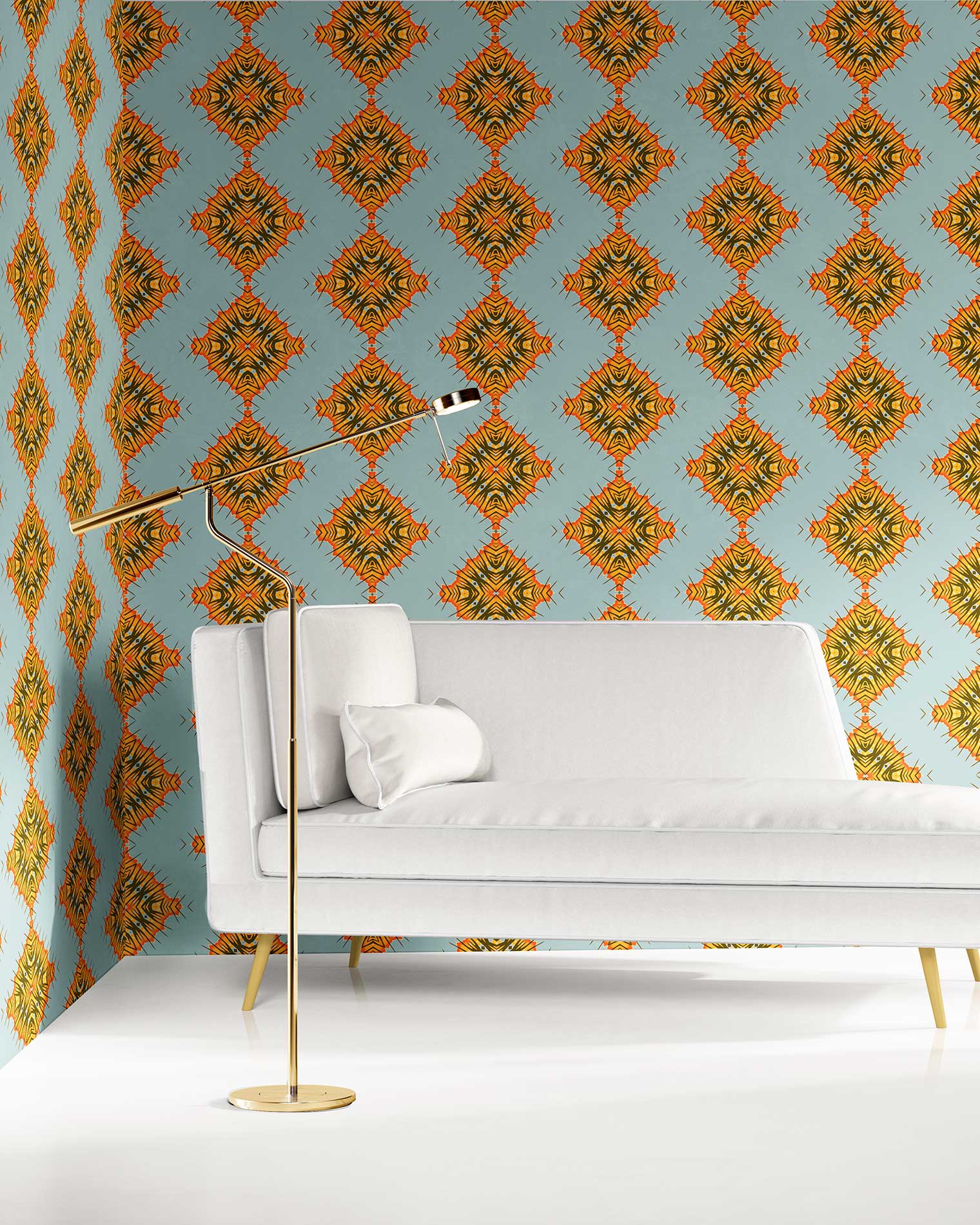 Some of you may know that M and I are building a house in the remote high desert of Southern California. We've agreed to not share photos until we have a sealed box. So more on that later… Pearl and Maude's Desert Diamonds wallpaper and fabric pattern is inspired by the landscape I've spent so much time in. It's dusty sky blue, brush green spikes and fiery orange gradients embrace the push-pull of the relaxing but intense desert environment.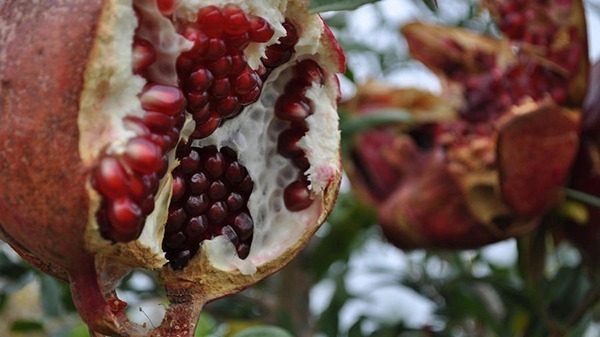 Did you know that September is the beginning of the pomegranate harvest? I've been a fan since childhood and remember staining the cutting board, and everything else, while trying to pluck those tart flavor seeds from their hard shells. Pomegranates make for great flavors in cocktails, salads and with roast meats. I love the recipes in this Sunset Magazine article: complete with persimmons, pork and pears. Falling into Autumn cooking seems inevitable with these inspiring recipes. Although I have to admit to being delightfully intrigued by the Pomegranate Champagne Jello Shots. I know, I know! I'm just not ready to grow up though!
Community​ Lights Series. ​Acrylic, metal leaf on paper. 17" x 12". 2020.
In the earliest days of city-wide pandemic lock downs, the Los Angeles skies smelled of jasmine and were the most deep, clear periwinkle blue. That color wove its way through this collection of paintings. In this particular piece, the shape of the street lamp and the blue color field joined to clearly create an ocean horizon. A lovely dreamscape. A portal. This is an original acrylic and metal leaf painting on paper. Available through Teale's website.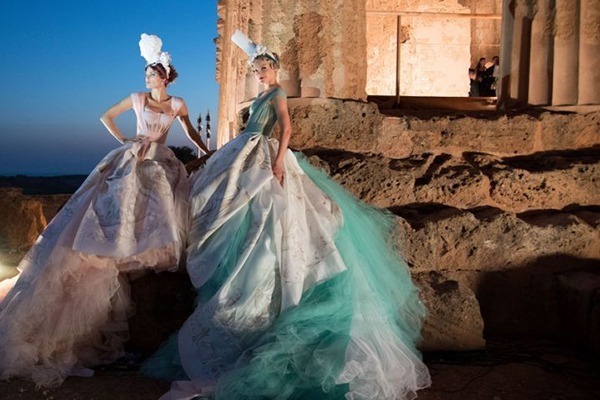 Haute Couture fashion shows are some of the finest examples of theatrics to be found on the planet. In particular, I'm partial to any runway set in a great location. Dolce & Gabbana's Fall 2019 spectacle does not disappoint. An ode to classical Greek mythology, this runway show sported ridiculously fun architectural hats, hand painted silks and heavy embellishments. The warm light, slight breeze and spectacular surrounds of the stunning Temple of Concordia make this the most peaceful haute couture runway I've ever seen. Also: kaftans eat your heart out. Goddess dresses are the new "it."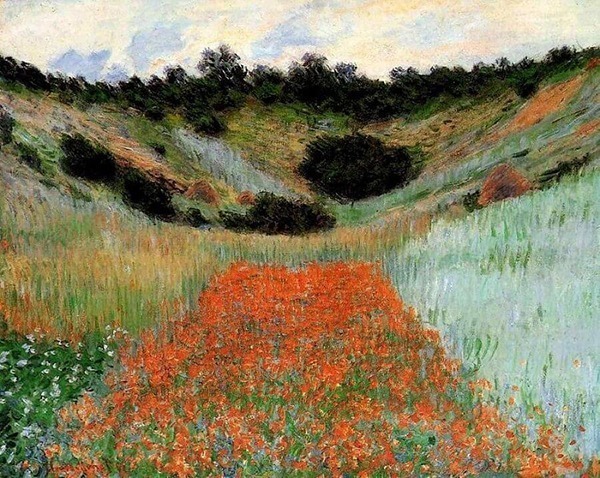 Viewing recommendation: currently on Amazon Prime and FANTASTIC! For me, this miniseries is the perfect blend of educational, entertaining and inspirational. I learned lots of stuff I didn't know, refreshed lots of stuff I had once learned, and was generally entertained and delighted the whole way through. Waldemar Januszczak is a British art critic with a long list of documentaries to his name. He's funny, he gets into the technical weeds, he seems to understand human nature and he makes a few assertions that I disagree with. Perfection. WATCH IT!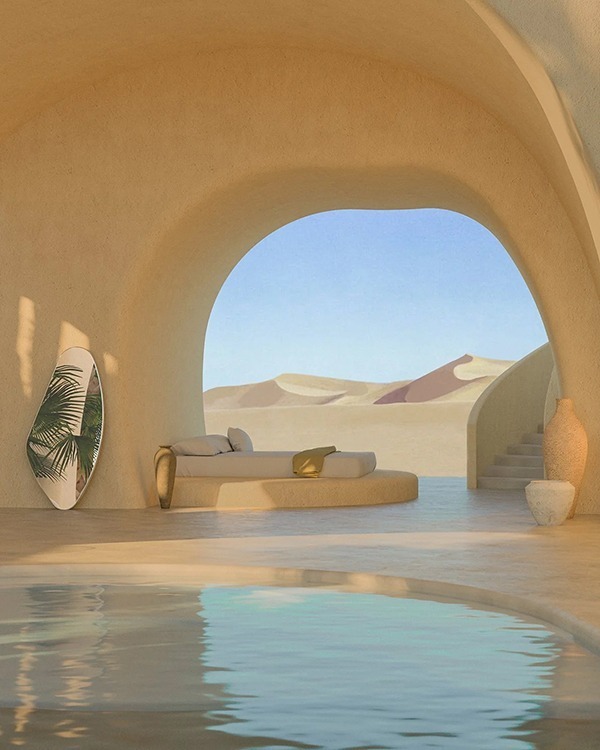 I've been saving this one to share for a while. Dreamscapes & Artificial Architecture: Imagined Interior Design in Digital Art, was released with Gestalten back in June. June? Hmmm. Feels like forever ago. Anyhow, I'm partial to physical spaces and I idealize slow living and a life less digitized, even if I'm not able to achieve it. This collection of images from digital artists around the globe are so cohesive and so… soothing. I didn't want it to be that way, but these completely imaginary spaces have the ability to transport me, to change my expectation of what may lay beyond these four walls. These aspirational spaces are quiet, organized, clean and colorful. They defy gravity and invite exploration. Check the book out on Architectural Digest.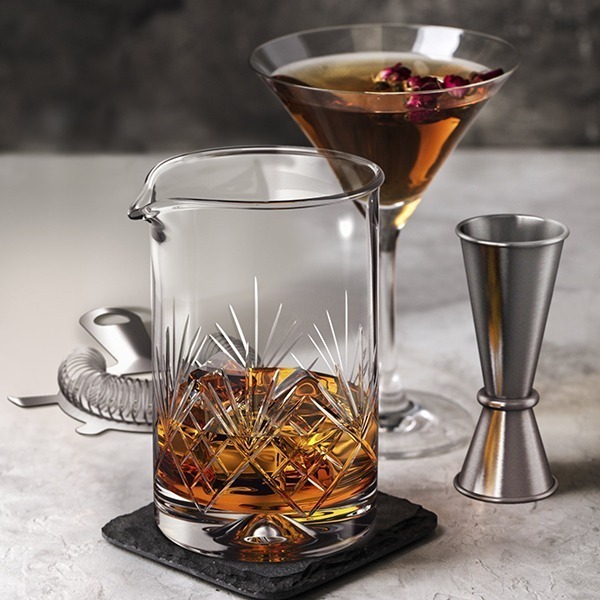 "Shaken not stirred." Pfft! James Bond may have had a few tricks up his sleeve, but being gentle on his martinis was not one of them. Some connoisseurs of gin suggest that shaking a martini bruises the gin, imparting a bitter flavor. I don't really know about all that, but stirring a cocktail over ice, slowly and consistently, does make it colder than shaking with less dilution of broken ice cubes. M and I recently started using this mixing glass from Mofado and we love it. It's beautiful, heavy and you can see what you're making. Purchase it with a barware set… Hello Christmas shopping! And BTW: when we say "Fall into Autumn," we don't mean literally… Cheers!